The Network Stream Player (CEN-NSP-1) instantly streams music wirelessly or wired from Apple® devices to a Crestron audio distribution system— from any room in the house. Streaming for the whole family
The Network Stream Player gives each member of your family complete audio freedom. Easy to use, the player provides both wired and wireless options for streaming music from iPod®, iPhone®, or iPad® to a Crestron audio distribution system. Access all your iTunes® music while controlling the listening experience with a Crestron app or touch screen. Get all the joys of wireless music without having to access a separate system. The all-in-one streaming solution you've been waiting for is here.
CALL US (626) 395-9597 TO LEARN MORE
Wireless streaming using AirPlay
Use AirPlay® to instantly connect to your own dedicated Network Stream Player. With one touch, turn on your home audio system, and start enjoying your favorite music. When integrated with a whole house audio system, such as Sonnex®, you can use the Crestron app (or a Crestron touch screen) to direct your music to any room or every room in the house. This opens the door to literally every single Internet radio service with an iOS® app.
Plug in via USB
In addition to wireless AirPlay connectivity, the Network Stream Player enables connecting an iPhone or iPod to a player via USB 2.0 using any Apple dock and/or cable. Wired connectivity opens up a world of possibilities with Crestron contr
ol and Apple services,
including seamless integration with iCloud® and iTunes Match®. One great application is an iPod touch® connected to each CEN-NSP-1, hidden in a rack, syncing to iCloud via Wi-Fi®. Now, your other iOS devices are free for personal use while listening to iTunes music. Use the phone or tablet instead for texting, emailing, browsing the Internet, playing games, or taking photos.
Browse, search, and select among songs, albums, artists, and playlists from either the Crestron app on a personal device or Crestron touch screens. Since the content is on the wired device in the rack, you don't have to carry around your personal device if you don't want to, and the music never "drops out" due to inconsistent Wi-Fi connectivity or when the phone rings. Try that with a wireless bridge!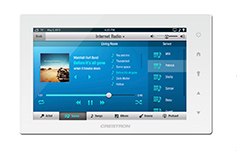 Perhaps the most powerful benefit of wired USB connectivity is seamless integration with Apple services. Each iPod touch connected to a Network Stream Player should be setup as normal with an Apple ID and an iCloud and iTunes Match account. Then, whenever someone makes changes to their iTunes library, those changes show up on all devices on their account, including any Crestron touch screens. Create playlists and download content on vacation or on a business trip; when you get home, it's all there on the touch screens. Rip a CD on your home computer or laptop – it's all there, everywhere. Delete songs on your iPad – all gone from your Crestron system too.
Please call MONACO at (626) 395-9597 to schedule your FREE In Home Consultation

MONACO AV  is a TRUE Authorized Dealer for Crestron  and we are invited you to join our growing happy customers.
Monaco Audio Video is one stop shop specializes in home theater, stereo system, home automation, lighting control, Security & CCTV Surveillance and custom installation & integration.  We serve customers from Pasadena, La Canada, San Marino, Glendale, Sierra Madre, Monrovia, Monterey Park, San Gabriel, Arcadia, Los Angeles, Studio City, Beverly Hills, Brea, Fullerton, Yorba Linda, Irvine, and Newport Beach